About Crooked Creek Angus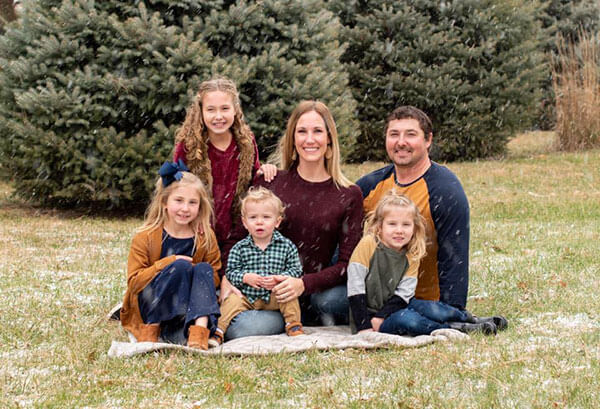 Growing Up on the farm created a love for farming that most of us know is undeniable. I was sure from a young age that farming was the only thing that I wanted to pursue. Besides profession football of course. Growing up on my Parents Lowell and Monica's diversified operation showed the importance of producing multiple products in a business with such unstable markets. When I was younger they were still raising hogs, along with the 150 commercial cattle and row crop. My parents have always had red cattle. Mostly comprised of 3/4 Red Angus and 1/4 Simmental. I was always teasing them as a little kid that solid black cattle is what we should be raising. We didn't know that a few years down the road I would have the opportunity to purchase an Angus seedstock herd of our own.
High quality cattle is something that I grew up on. For many years growing up it was clear that while Dad liked row crop farming, cattle were his true love, and it showed in the salebarn. Every January we would load up to make the drive to Massena Iowa to bring our heifers and steers to their annual Red Angus influenced sale. It was not uncommon for their cattle to top the market that day. Almost all of their heifers sold went back into production throughout the Southern Iowa and Northern Missouri region.
Jamesland Farms was an Angus seedstock operation just a few short miles down the road from us. Wayne and Dixie James were raising very high quality, fast gaining, calving ease Angus. The seedstock business was always appealing to me. I loved going to bull sales as a kid and like most boys the bulls were my favorite part of the cattle operation. A few years after I had begun renting Jamesland Farms row crop acres, Wayne and Dixie offered my wife and I a chance to purchase their herd and we felt like it was a great way to expand and grow our farming operation. The James's had seen the way that my family raised cattle and felt confident we would be a good fit for them as well. With my love of cattle and my wife always showing cattle growing up, it seemed like a great choice.
We decided a slow transition over the next 6 months from Jamesland Farms to Crooked Creek Angus would be best for both the James's and us. We really wanted to meet the client base, and get to know what the longtime customers both loved about the operation, and what they expected out of the future. We have an open door policy at Crooked Creek Angus. You can stop by any time of year and we would be glad to show you through the herd, talk about our nutrition and feed programs and what direction we are going with the herd. At CCA we value docility and it shows in our cattle and EPD's. We are proud of our cattle herd and their ability to stay conditioned while still raising these impressive bull and heifer calves. We wish you all a safe and profitable year.